Building on his experience from many years in motorsport, in management and sponsorship roles and media activities, Ron Reinders founded his company Racetrailer.com in The Netherlands, his home country, in 2008. "Over the years, I noticed that transport often caused worries and problems for race team owners. Some were only looking for temporary solutions, some wanted their own trailers, but didn't really know where to go. That is how I got the idea to start this business, filling in the gap," Reinders explains.
The market leader in the race trailer industry
Racetrailer.com has quickly become the market leader in the race trailer industry. Taking into account the input received from clients across all disciplines in motorsport, a wide model range of race trailers was developed and produced. Brand-new double-floor race trailers, built in The Netherlands, are available in different varieties to suit the needs, but what they all have in common is their outstanding value for money. For those who prefer to rent or lease a race trailer, these options are available, too. On top of that, the Racetrailer.com website has become established as the leading market place for used race trailers.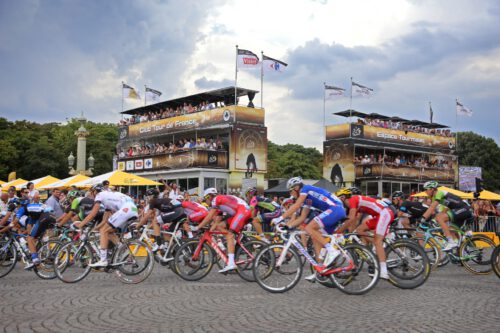 In 2018, Dutch company Movico Group, a worldwide leader in mobile event marketing, acquired a majority stake in Racetrailer.com. This enables Racetrailer.com to offer its clients not only highly efficient transport solutions, but also a wide range of mobile high-end hospitality units, which has been Movico Group's specialisation for decades, from Tour de France and the Dakar Rally to the Volvo Ocean Race and the Ski World Cup.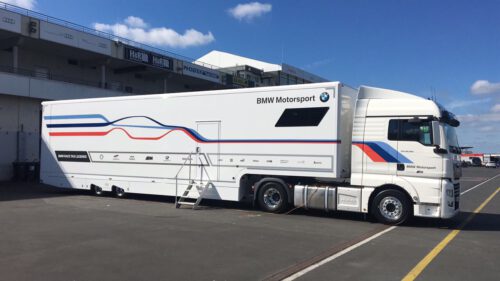 Racetrailer.com has its clients in almost all disciplines in motorsport, from the FIA Formula 1 World Championship to club racing level. Teams, suppliers, service providers and race organisers are using its trailers to great satisfaction. "Sometimes, people ask whether we have a showroom," Ron Reinders says. "We do indeed, but I like to say that the paddocks of all the circuits in Europe are our showroom, because that is where our trailers can be found."
Superb
after-sales
service.
"We pride ourselves in giving excellent value for money in Europe, superb after-sales service and we believe we cannot be beaten in providing vehicles to our customers which are at the very best level of engineering and hire prices. We supplement our rental program with a number of valuable services, so you can be sure we are there for you 24/7. If you want to rent, buy or sell a race trailer or a racecar transporter, contact us! Do not hesitate to call us if you have any questions or you ask us for a quotation right now. We speak English, Dutch and German."
In November, 2018 Movico Group has acquired a majority stake in Racetrailer.com. For both companies, this step is a logical one as their respective activities complement each other perfectly.
Movico is an international specialist in mobile event marketing. With its large fleet of unique promotional vehicles, Movico is handling corporate promotion at international sports events, roadshows and fairs. For global brands like Samsung, SAP, Nissan, Huawei, Dimension Data and Ziggo (Liberty Global), tailor-made roadshows are staged. Moreover, Movico has already been supplying mobile facilities for renowned sports events such as the Tour de France, the Dakar Rally, the Volvo Ocean Race, the Paris marathon, Alpine Ski World Cup races and countless cycling classics for many years. The fleet includes special vehicles that in no time can be transformed into mobile VIP hospitality rooms, press and media rooms and mobile fair booths.