Full solid 2nd deck for cargo or load-up motorbikes or 5 or 6 cars or , 2nd floor is adjustable, incl. side door.
Made in The Netherlands only at racetrailer.com.
We are pleased to present our latest innovation on our current platform: the specially designed configuration in close cooperation with Porsche Motorsport AG, the "Cargo Edition race trailer".
This racing trailer has been designed with an eye for detail and functionality. The second deck is fully closed yet adjustable, making it ideal for transporting pit-equipment, flightcases, motorbikes, karts and, of course, race cars. Moreover, additional vertical LED lighting is fitted for the best visibility even when it is dark.
The Cargo Edition is only available with the HighLine walls (seamless), which are already included in the listed price. These walls are of the highest quality and provide excellent protection for your valuable cargo during transport.
In short, the Cargo Edition race trailer is an excellent choice for anyone looking for a reliable and practical solution for transporting various goods. We hope you are as excited about this new addition to our range as we are. Do not hesitate to contact us if you have any questions or would like to receive more information about this innovative race trailer.
As standard equipped with:
Adjustable, flexible (3 parts) 2nd floor for cars, bikes or cargo
LED lighting in the loading area
Various fixing points for cars and materials
Stylish wheel covers
Includes:
High Line walls (no seams, flat sides)
Solid 2nd adjustable deck
Side skirts along the full length
Side door with lock (right side)
LED lighting between all the beams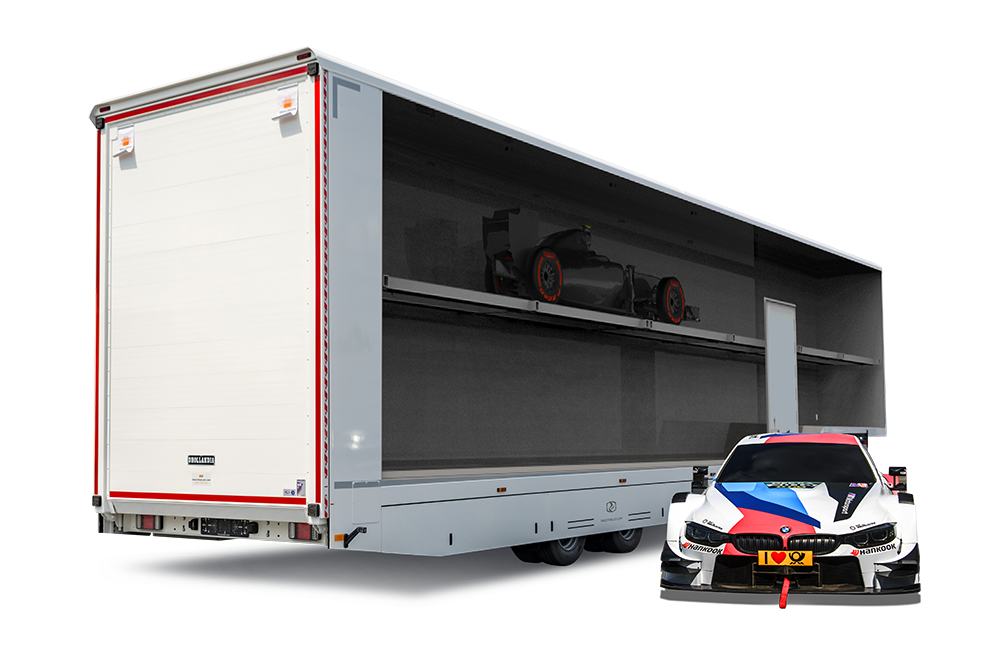 Solid deck, cargo, bikes or 5 to 6 cars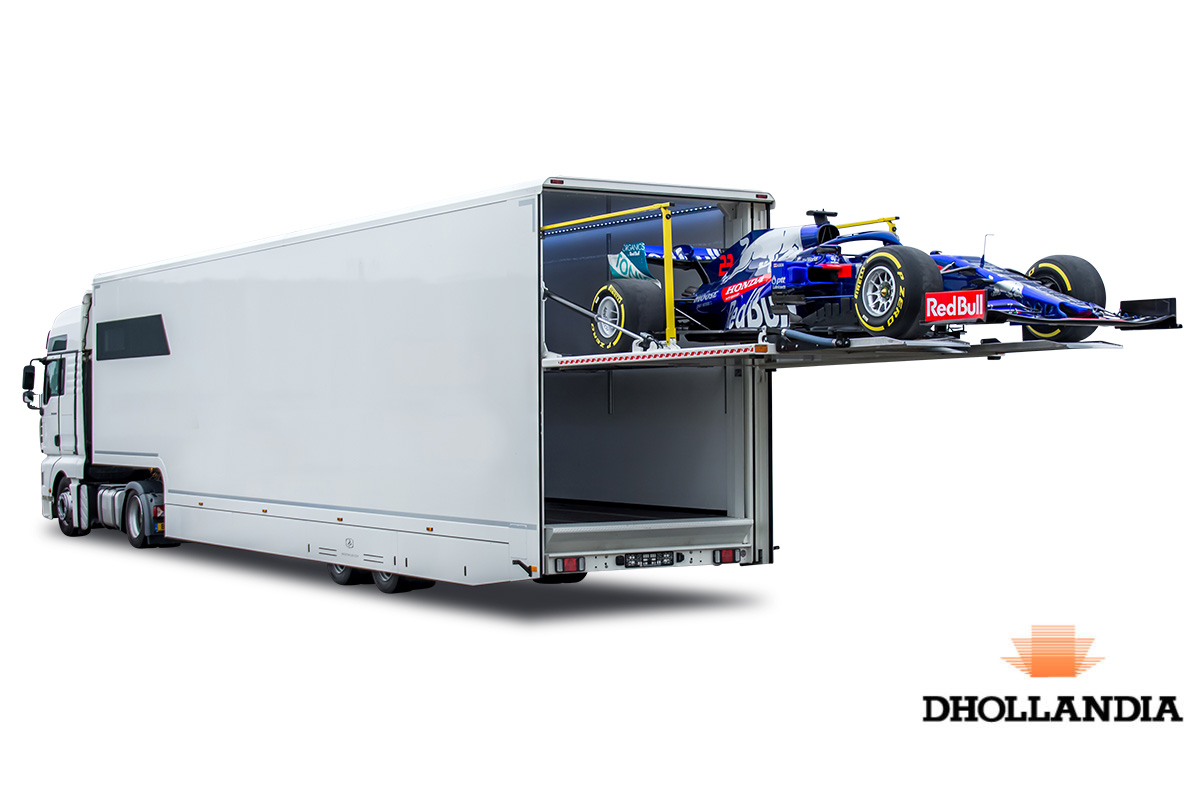 dhollandia
2000kg
car lift
360° tour inside this trailer
Low Deck View (Office not possible in Line Up trailer)
2nd Deck View
Look around! Click and hold mouse the button and move around. Use scrollwheel to zoom in and out.
Sizes are in line
with European norms:
13.600mm long

max permissible weight
20.000kg Dish height
1.150mm
trailer
height
4.000mm trailer
width
2.550mm
Office
not
available total 13.600mm long
storage area: 10.700mm3
Technical Specifications
Goose neck trailer
SAF axes (twin axes with double air)
Premium brand tires, 8 pcs
WABCO (EBS) brake system with ABS 2S/2M anti-tilt system
Air suspension
Dhollandia 2.000 kg car lift , 3.000 mm, with remote control
Security gate on life with extension deck of 1.100 mm
Color: RAL 9010
LED lighting
High-Line walls: 45 mm thick sandwich panels with seamless polyester skin plate. This version is available at additional cost.
Trend-Line walls: standard equipped and including in the price, 45 mm thick sandwich panels with the foamed skin plate 0,6 mm thick steel linked segments with a vertical seam.
Buy, rent or lease a racetrailer.
This is self-evident in the precision and adaptability used in the construction of the race car transporters that we sell, they are designed and constructed to be ideal for transporting and servicing the valuable cargo. Now firmly established in international motorsport, Racetrailer.com has become Europe's number 1 provider of transport solutions for motorsport teams. Rental of race trailers including 24/7 mobility service, sales of new and used race trailers, rental of trucks and an innovative platform for teams to sell or buy used race trailers: it is all provided by Racetrailer.com.